Live Well and Be Happy in The Larking's Penthouse Collection
Elevated and Exclusive
Perched on the 15th floor, The Larking's penthouse collection of floor plans has all the expected and unexpected design touches for a truly exclusive
apartment living experience. From French doors leading to private terraces to finer details like brass chandeliers and custom closet systems,
this is the elevated apartment of your dreams.
Ready for more? Let's get into it.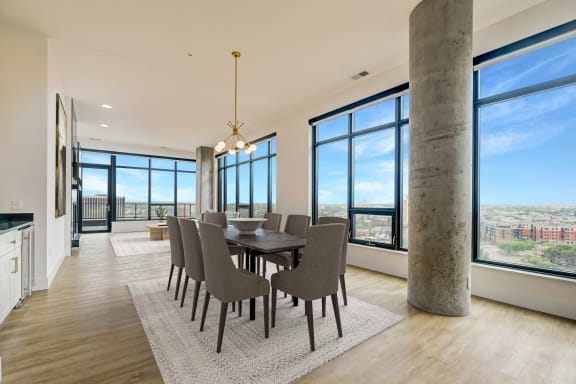 All Eyes On Your New Penthouse
Our penthouse layouts have the space you need with the style you crave. Each day you are welcomed home to airy 11-foot ceilings and floor-to-ceiling windows that let natural light in during the day and give way to stunning views of Downtown Minneapolis at night. Each residence is equipped with top-of-the-line everything including a Subzero stainless steel refrigerator, Wolf gas range, and a built-in wet bar area with a beverage refrigerator (bonus!).
Floor Plans That Are A Notch Above
Shop around our spacious two- and three-bedroom floor plans to find the penthouse with your name on it.
It's All In the Details
Enhancing your lifestyle one detail at a time.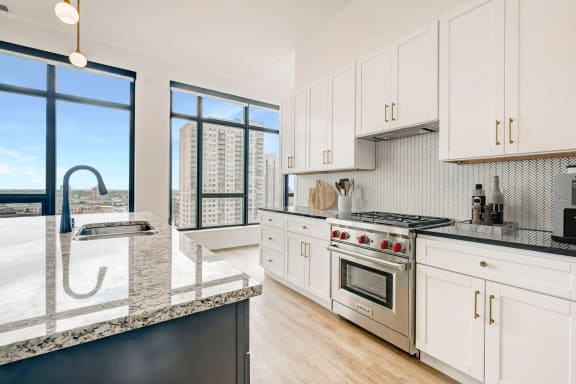 Chefs Kiss
Revel in the beauty of a gorgeous kitchen with top-of-the-line appliances, stunning herringbone tile, and modern brass hardware details for that little something extra.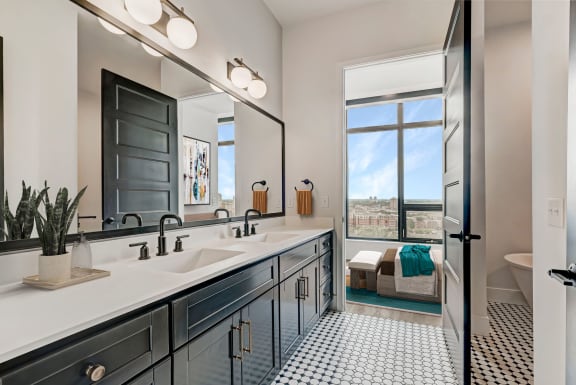 Oasis in the City
The penthouse ensuite baths are indeed an oasis from the daily grind. With custom tilework, a free-standing tub, and a walk-in shower, this is where you can find your daily dose of zen.
Stunning Fireplace Wall
The floor-to-ceiling fireplace is the focal point of your living space. Surrounded by a dramatic black tile and built-in bookshelves, this statement piece has plenty of room for your to style and make it your own.
Your New Point of View
From the 15th floor, there's a lot to take in. You'll enjoy unobstructed views of the Minneapolis skyline and check in on the happenings at US Bank Stadium from your private terrace. It's an unforgettable, unique living experience and it's ready to welcome you home.
Want to see it for yourself? Apply now for a private tour of your new penthouse home.